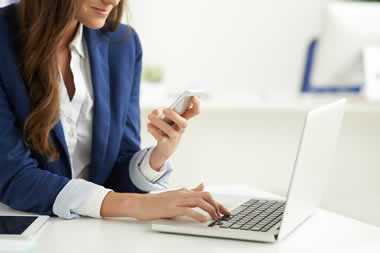 A CINCH TO SET UP AND UTILIZE
Begin the process by creating your lead generation form. It's easy to navigate from your company's LinkedIn profile to the form editor, where you can construct that form in mere minutes. Then attach the form to a lead-generating ad featuring your firm's persuasive ad copy and a call to action customers will find difficult to resist. Bonus: These ads will show up just as beautifully on customers' mobile devices as they will on stationary devices, because Lead Gen Forms are optimized for mobile.
Customers and prospects responding to your ads will become quality sales leads, with contact info migrating from their LinkedIn profiles into those leads instantly and with no effort on their part. Lead Gen Forms offer numerous other benefits, such as these:
Lead Gen Forms minimize hassles by integrating seamlessly into most CRM software. That means sales leads generated can be pursued through the repertoire of other marketing tools already part of your streamlined software system.
The process doesn't end when your new sales leads send contact info. They are in turn sent to a thank you page where they are directed to a landing site summarizing the offer and/or providing additional marketing content.
Once leads are sent to LinkedIn Campaign Manager, your company can manage the new leads' information to their fullest advantage.